integrated Digital Earth Applications and Science lab
---
The iDEAS:lab is an interactive laboratory for research-based learning at all levels, geoinformatics experiments and the general public. Equipped with innovative Digital Earth technologies, the focus is on the interface between real and virtual worlds. The iDEAS:lab offers modules that make Digital Earth research accessible and invite to actively explore Digital Earth technologies. These modules are presented in four different labs, focussing on specific target groups
Schools Lab: Providing Digital Earth know-how to students of different age groups
Research Lab: project-oriented experimental platform and university courses
Open Science Lab: Access to Digital Earth for interested parties and the general public
Transfer Lab: Cooperation with business partners and start-ups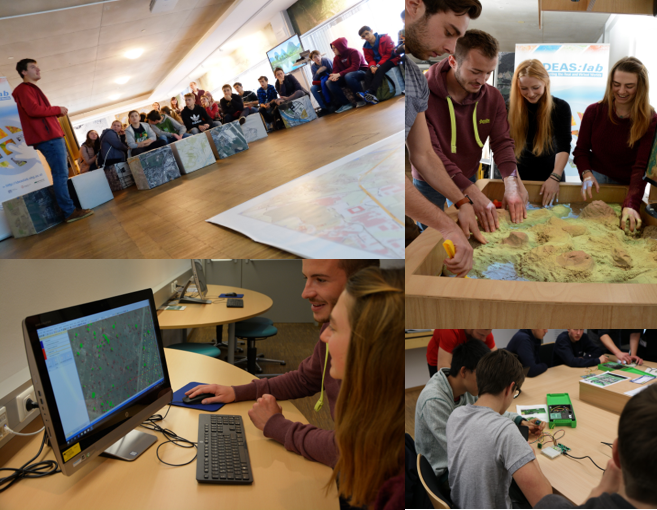 Positioning: The background, capabilities and difficulties of satellite positioning
Spatial analysis of social media: How can my posts be used for the analysis of events with spatial characteristics?
Citizen Science: What do I need to build an easy to use weather station?
Geoadventure: Which technologies and methods are used in the wide world of Geoinformatics?
Augmented and Virtual Reality for experience, presentation ans science
3D printing for modelling of spatial information
Measurement toolkits for a wide area of topics, like weather stations or distance measurements
Bluetooth and LoRa technology for indoor navigation and asset tracking
---